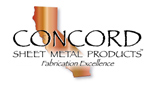 Eclipse Millennium® Gutter System performs as a system should!
Style –
Adds a rich, crown molding appearance to any structure.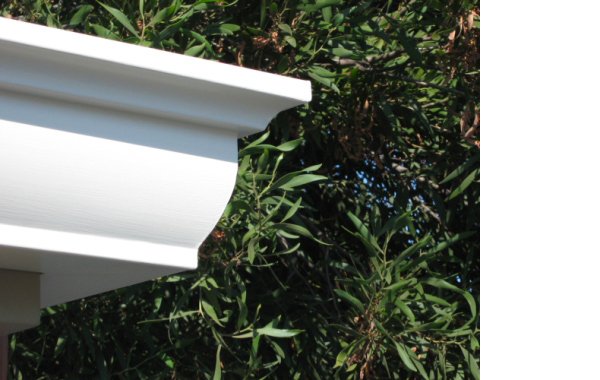 Profile of our Eclipse Millennium gutter, in bonderized material, painted white. An elegant addition to any structure, at an affordable price.
Roll formed gutter –
Consistent quality and affordable price.
Cut to length –
Eliminates drop, for a 15 -20% material savings.
Water won't overshoot this gutter –
LARGE 6 3/8" opening.
Allows for high velocity water to flow into the gutter, not over it.
Designed for ultimate performance.
Designed with tile roof needs in mind –
Wider at the top and with a large volume capacity.
Your choice of back heights available with wing; or no wing with 6 7/8" back height.
Overflow feature –
At 5 7/8" tall, gutter front is 3/8" lower than back.
If system is clogged, water will flow over the front of the gutter and not intrude into the structure.
Factory mitered corners –
Fully assembled, sealed or soldered, or cut only. Saves time and adds to a uniform installation.
New FastStrap® assembly –
Install straps on the ground.
Safer and quicker strap installation.
Fastraps® have pre-punched nail holes –
Makes gutter installation quicker, easier and stronger.
Flush end caps –
Creates a clean finished look.
1 ½" offset strap –
Allows for nosing installation without notching. Easily add extra water protection and minimize the chance of water intrusion.
No fascia board required –
Tall gutter covers 2 x 4's and trimmed 2 x 6's, to eliminate cost of fascia board, if desired.
Up to 4" round, or 3 x 3 downspout –
4" round downspout increases water flow to 2.25 times, over a 2" round downspout.
Fewer clogs, more water flow.
Smooth, seamless, 2 ¼, 3" and 4" round and 3 x 3 elbows in stock.
Extendable 3" round and 3 x 3, elbows eliminate the need for miters and soldering.
Four inch round gutter outlet and downspout available.
Cast aluminum and bronze leaderheads to match
All accessories available –
Including 3" round and 3 x 3, smooth, extendable elbows, in copper and galvanized
Available in copper, bonderized, galvanized, Kynar® (a pre-painted material) and Rheinzink®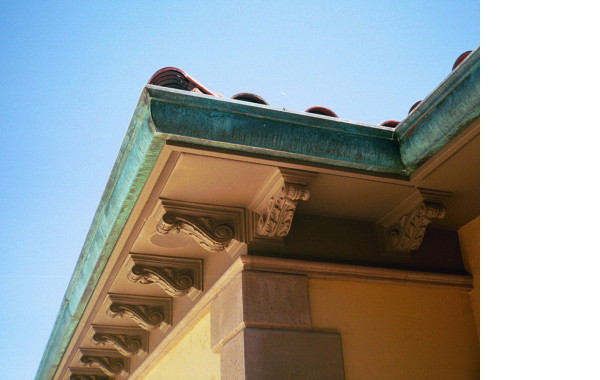 Danville, CA residence with 20 oz, copper Eclipse Millennium gutter. Green over brown patina.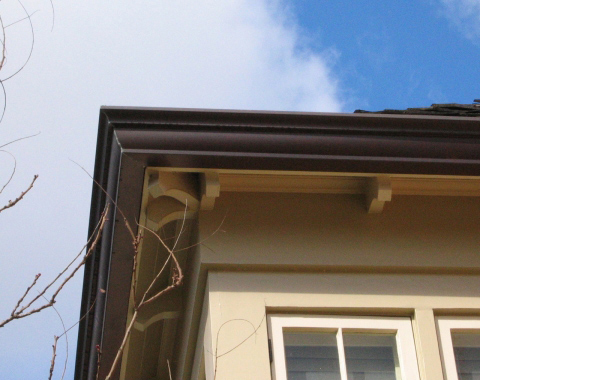 20 oz, copper, Eclipse Millennium gutter on residence in Saratoga, CA. Natural patina.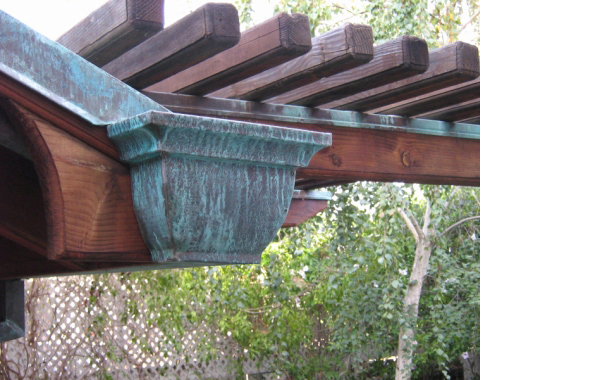 View of Eclipse Millennium profile end cap, in copper. Copper beam covers and flashings. Special green over brown patina.
The Eclipse Millennium Gutter and Mission style, copper, deco tops are installed on a residence in Danville, California. To achieve a rustic, aged, look, they have been specially treated with green over brown patina.
Naturally patinaed Eclipse Millennium copper gutter, with profile end cap and cast bronze leaderhead, on residence in the 'Fab-Forty' area, in Sacramento, CA.
Concord Sheet Metal Products, Inc.

140 Mason Circle, Ste J
Concord, California 94520
Phone:
800-799-1900
925-680-8723
Fax:
925-680-6569
Website: www.concordsheetmetal.com
Email and RFI: estimator@concordsheetmetal.com